Who Is Tom Steyer?
Why does he want to impeach Donald Trump?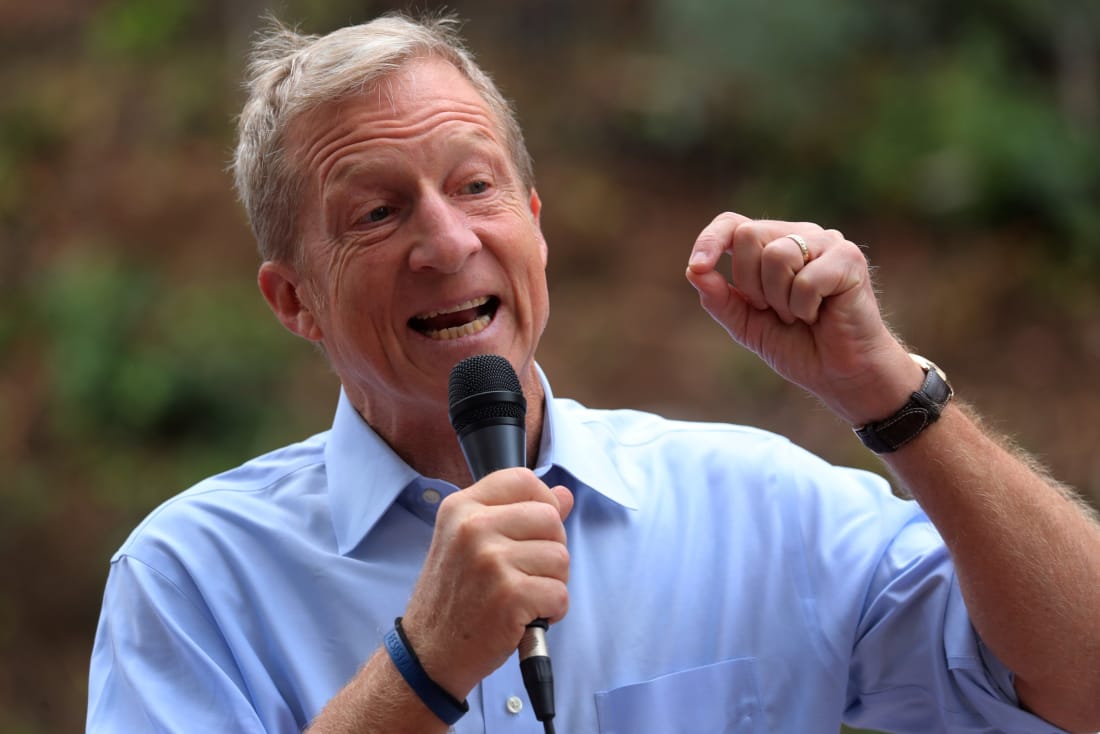 Who is Tom Steyer? According to his Facebook page,"Tom Steyer is a former hedge fund manager and business leader as well as a philanthropist working to promote economic and educational opportunity and a healthy climate."
Tom Steyer is also the founder of NextGen America and one of the top Democratic donors in the country. In the 2016 campaign, he himself donated close to $86 million dollars. This amount far exceeded any other Democratic donor. His company NextGen donated about $56 million dollars.
NextGen America is an environmental advocacy nonprofit and political action committee created in 2013 supporting candidates and policies that take action against climate change.

Regardless, you might know him better as the man who is on your television screen paying millions to have commercials made to convince you that Donald J Trump needs to be impeached.

The Steyer ads are being aired online and on national TV. However, they will not run on Fox News, which has refused to air the pro-impeachment ad.

Tom Steyer is a progressive from San Francisco and is waging an eight-figure campaign to get fellow billionaire Trump booted out of the White House. He is also trying to mobilize millennials to vote in the 2018 midterms.

According to Mr. Steyer, "President Trump has taken money from foreign governments, obstructed justice at the FBI, threatened to shut down news organizations for reporting the truth, and brought us to the brink of nuclear war. He feels that he is a dangerous president."

This is why he has gone to the streets. Mr. Steyer has started a petition to get Mr. Trump impeached. The petition has started to gain some steam and currently has over 4 million signatures.
While dissatisfaction with Trump is incredibly high, according to polls, the odds of a successful impeachment making it through a Republican-dominated Congress are very low.

That being said, Democratic congressional leaders like House Minority Leader Nancy Pelosi reportedly sees Steyer's impeachment movement as a distraction as her party works to take back the House.

Steyer is not without his critics. Some feel that he is setting up and preparing for his own political aspirations in California. People feel that he wants to run for the senate. Others like David Axelrod feels this is just a vanity project.
The criticism is not just on the Republican side. He is hearing it from the Democratic side of the aisle as well. Steyer contends their comments showed a disconnect with people outside of Washington. Steyer has been quoted as saying in a recent CNBC interview, "So I think that's the distinction you have to understand is there are the people inside the Beltway and then there are the human beings who are American citizens and the distinction is very clear."
That all being said, even President Trump himself has stepped into the mix and has tweeted that Steyer is a "wacky and unhinged" environmentalist who "never wins elections!"
Billionaire explains $20M campaign to impeach Trump.
Regardless, go to Steyer's website. Read up on the man and what he is saying and make your own decision about him. Whether you disagree or agree with the man, you can discount his passion and enthusiasm.
Steyer wants you to "tell your member of Congress that it's time to stop doing what's political and time to start doing what's right."
According to Steyer, "This is not a time for 'patience'—Donald Trump is not fit for office. It is evident that there is zero reason to believe he can be a good president."
Needless to say, this will be an exciting 2018 in politics.
For more information, go to his website.
He also has a presence on Facebook, Instagram, and Twitter as well.