The Standing Rock Series: The Calm Before the Storm
The Calm Before the Storm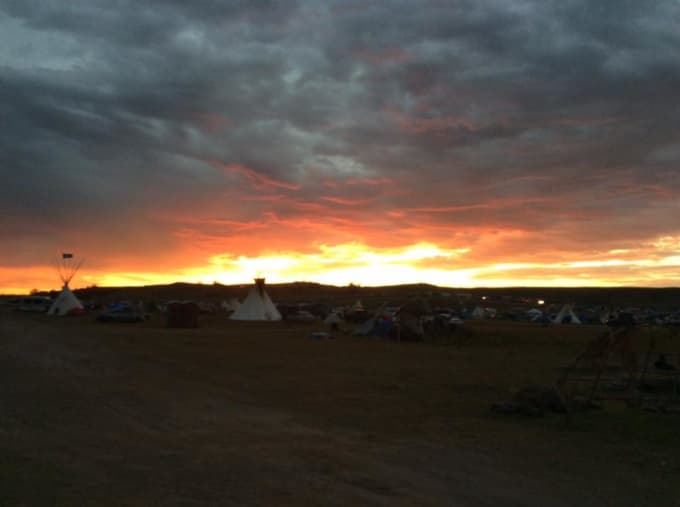 This was during my second trip to Standing Rock; camp had grown significantly in a short time after I left from a few hundred to a couple thousand people. It was in that time we had many successive peaceful actions that were truly beautiful to be a part of. I would call this the calm before the storm, for soon they brought heavier violence upon us.
In this time we had our water ceremony almost every morning. People would gather by the sacred fire as well to say their morning prayers and give thanks. Everybody ate together and helped each other. Many of us got to know each other before the going got tough. It is something I recall fondly because many people I know in the modern world don't get to experience this way of living because of the fear that has been propagated upon them or they are too busy with their day to day lives.
It is when you take that time that you meet people you might have not met otherwise. I listened to many people's stories during this time and enjoyed a lot of good company. It was beautiful.
When I had left the first time, it was very hard for it was September 3 when they brought the dogs out on people with children around. Later it was found that the person they had hired was not even licensed to operate in the state of North Dakota, one of many unlawful things they committed against us while we were there.
That was hard for me because I had not wanted to leave but had to because of probation in Canada and was not about to breach and burn the candle at both ends, that would have ended my place in the movement then. If I missed the meeting, I would breach thus wanted in Canada, then if I got caught in North Dakota that would be another breach where I would have been deported home plus charges stacked from North Dakota on top of that where I probably would have faced some hefty fines and possible imprisonment.

Alas, when I left from here the second time, that was when things got worse. Numbers died down while I was gone and a few of my friends stayed to hold things down at camp. That's when the stage was set for North Camp to fall on October 27th (I had left the 13th), which was when they got Red Fawn through a setup from her boyfriend with the feds, this was one of many corrupt things that we faced as well as they worked hard to destabilize camp by going after leaders.

Then Turtle Island happened just before I got back in the following week where many were harmed then as well. Yet, many stayed nonviolent throughout the course and prayerful. People that had showed up there ready to go to war were told to stand down and get in a good mind or go home, didn't need any "hot heads". That was harder to maintain as the weather got colder and especially as tensions increased.
This was one of my favorite moments in the movement when this picture was taken because it was a time of peace where the majority of people were in harmony. One of my fondest memories then was standing on the hill in the middle of the night and listening to the sounds of people from across the country, some from across the world, coming together through different songs and joining as one. Meaning, people had different song circles going on, and as I was standing upon that hill they all slowly came together and harmonized into one rhythm. That was a powerful moment I could never forget in my life, truly timeless in essence.
It was at that moment I felt my spirit awaken in such a way that humbled me with happiness, because all of these people were standing for our Earth, and it showed to me that whether we know it or not yet, this circle is meant to heal. It brought me back to Idle No More when I walked through Ottawa to Parliament.
This movement has been growing to defend the Earth and the water, it is no coincidence that those who stand to gain from taking our inalienable right to life so that they may profit from it are the same ones set on destroying it. We dubbed this "the black snake", for while it is a reference to oil, it is also a reference to the mentality bred within the minds of people set on destruction.