The Simpsons Take a Jab at Donald Trump's Scandals in Clip
The writers on The Simpsons have also decided to use Trump's latest exploits as the President of the United States for material.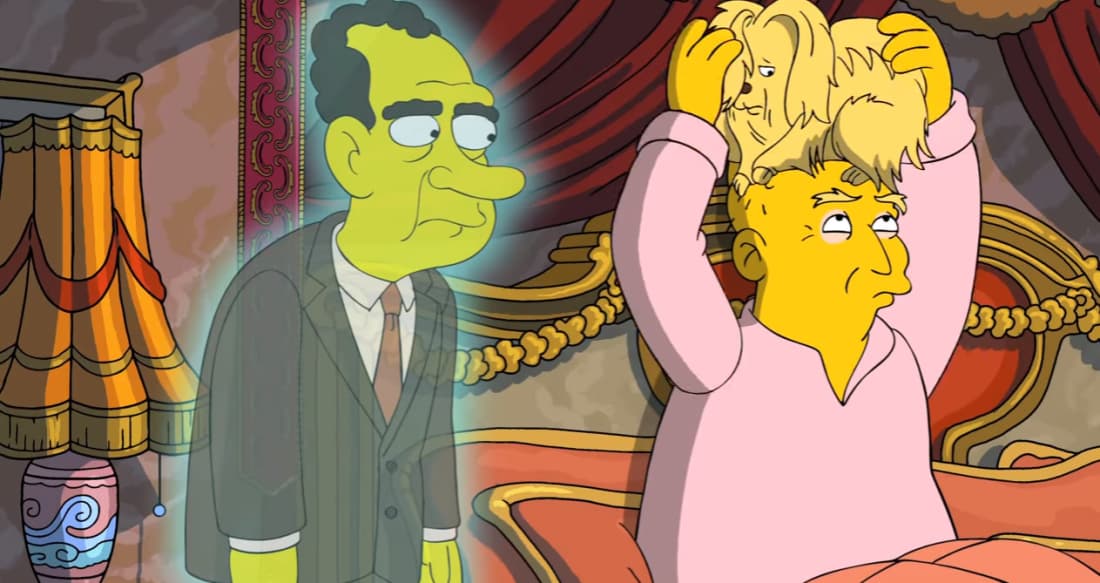 When it comes to the current United States President, everyone has something to say about Donald Trump. Because of his controversial statements and even more perplexing actions, Trump has drawn in quite a bit of attention onto himself. Lately, Trump has become a big topic of discussion because of his latest scandals.
Scandals relating to potential Russia leaks involving Trump have made him quite popular among the round of late night talk show hosts, but they're not the only ones taking notice of the president's on-going scandals. Apparently, the writers on The Simpsons have also decided to use Trump's latest exploits as the United States President for material in a new clip. Check it out below:
The recently released clip depicts Donald Trump on his 125th day in office as he lies in bed. Trump is attempting to persuade former FBI director James Comey into handing over the notes he took while the president supposedly leaked confidential information to Russian officials. The scene is obviously played out like a gag but there are a few topical references hidden within the imagery of the scene. Though, it may have been difficult to pick up on all the hidden messages in such a brief video. So if you didn't pick up on all the little messages transcribed in the subtext, here's an explanation of what you missed.
News Correspondents Get Hanged in White House Press Briefing Room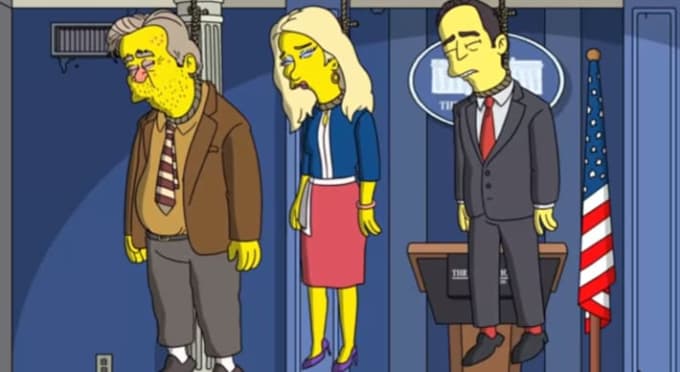 The first images in the clip displays three people being hanged. Their identities are unconfirmed so this may be conjecture but they appear to be journalists of the free media who've been deemed "fake news" by President Trump. The President has on more than one occasion refused to answer questions from particular journalists or anyone asking him difficult questions. And to make sure the public isn't paying any mind to the journalists he doesn't want around, President Trump continues to call them "fake news". In doing so, Trump has discredited these correspondents' views and essentially killed their careers. The imagery of them being hanged is a metaphor for what has been done to their careers in light of acting like real journalists.
"Vice" President Mike Pence Makes Some Preemptive Changes to His Official Title
The next scene of interest opens to a clear depiction of Vice President Mike Pence, who's wiping away the "vice" in his title on his nameplate. The animated adaptation of Pence is doing said action in response to the recent scandals involving Trump potentially giving way to his impeachment. If that were to happen, "vice" president Mike Pence would then become President Mike Pence- just like his nameplate says in the clip.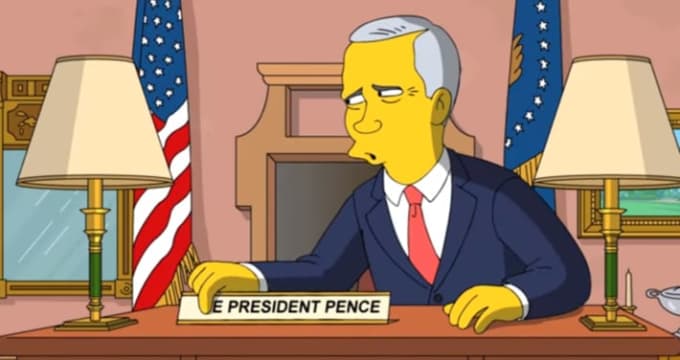 President Trump Loves His Ice Cream
The final scene in the clip shows President Trump lying in bed with a few books scattered around him. Among the books titles, the one to Trump's left reads "Two Scoops For Me", is probably a jab at Trump's penchant for sweets and ice cream. He's been recognized for continually pushing deserts on to diplomats visiting the White House, and talks about them in great detail despite being brief on more relevant topics like healthcare and world relations. His interest in ice cream wouldn't be all that relevant if Trump spent more time talking about real world issues instead of how delicious the cake he shared with a fellow president.
Trump Endangers Bonds With Israel to Sell Weapons to Saudi Arabia
The book right in front of Trump is called "How To Lose Friends And Piss Off Israel", a title which we assume refers to Trump's recent transactions with Saudi Arabia to sell them an exorbitant amount of weapons despite Israel's concern about the sale. Israel considers Saudi Arabia to be a "hostile country" and have said they're troubled by the recent sale of arms to Saudi Arabia. With that being known, the joke title of "How To Lose Friends And Piss Off Israel" is likely alluding to Trump's latest bumbling of a deal to solidify peaceful bonds with Israel when in reality, he's making relations between Israel and the United States that much more difficult by selling weapons to Saudi Arabia.
Bill O'Reilly Still Fired and a Good Thing Too
The book to the right of Trump is probably the most humorous of books on his bed. That book title reads "I'm Still Fired" by Bill O'Reilly. The title alludes to Bill O'Reilly's recent firing from Fox News and seems to be a funny jab at the former correspondent for being another top official at Fox who's been removed for sexual harassment charges.
For those who don't know, Bill O'Reilly was fired by Fox News for sexual harassment allegations. It was reported that Fox paid millions in settlements to women who alleged O'Reilly harassed them over the years. Although, it wasn't until a massive boycott of The O'Reilly Factor was waged that Fox News took action and cancelled O'Reilly's show, along with firing him as host.
Did We Miss Anything?
In addition to the subtext hiding within the imagery of this new clip from The Simpsons, a few other funny moments were tagged on to the video as well. One of which includes a play-on-words depicting the ghost of Richard Nixon, who's apparently praising Donald Trump for making him the 44th best president.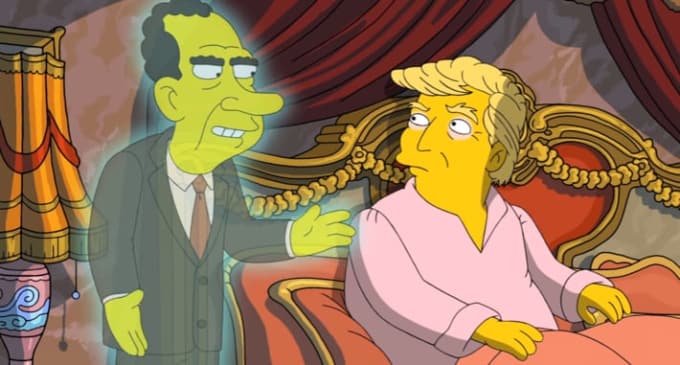 The reason why this is a funny remark to acknowledge is because Donald Trump is the 45th president of the United States. Nixon being the 44th best president implies President Trump is the worst president seeing as how Trump "is" the 45th president of the United States. This small nod to former president Richard Nixon was also likely added to the clip because of Nixon's similar battle with scandals during his time as president.