The Swamp is powered by Vocal creators. You support
Patrick Hollis
by reading, sharing and tipping stories...
more
The Swamp is powered by Vocal.
Vocal is a platform that provides storytelling tools and engaged communities for writers, musicians, filmmakers, podcasters, and other creators to get discovered and fund their creativity.
How does Vocal work?
Creators share their stories on Vocal's communities. In return, creators earn money when they are tipped and when their stories are read.
How do I join Vocal?
Vocal welcomes creators of all shapes and sizes. Join for free and start creating.
To learn more about Vocal, visit our resources.
Show less
The Independent Group: How It Splits the Left
A minor blow to the Labour Party could signal tougher times ahead.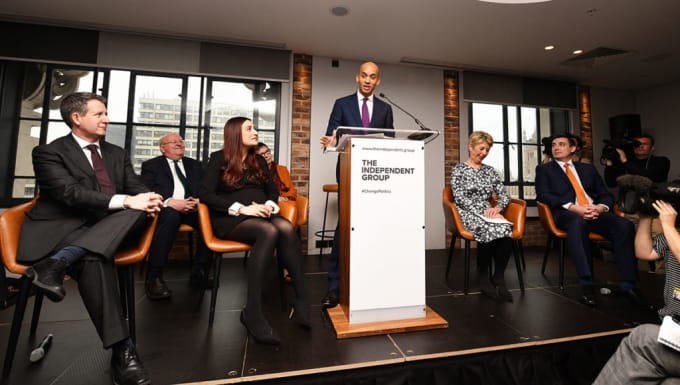 This week has seen a handful of UK Members of Parliament leaving the independent centralist group. Eight MPs have parted ways with their parties in what can be described as a protest, the way in which their parties and the government as a whole are conducting themselves. It is also an act that highlights the level of deficiency of the Labour Party under Jeremy Corbyn, and it is only going to weaken the party.

The reasons given by each Labour MP—these being Luciana Berger, Chris Leslie, Angela Smith, Gavin Shuker, Mike Gapes, Ann Coffey, Chuka Umunna, and Joan Ryan—as to why they chose to quit the party were varied. The dissatisfaction towards the way their party has tackled the anti-semitism within its ranks has paralysed the party in recent months was one of these. This was strongly voiced by Berger during the first statement made by the group earlier this week:
"We represent different parts of the country, we are of different backgrounds, we were born of different generations, but we all share the same values"
For others, the Labour leadership was the reason given for leaving the party. Corbyn has often been criticised for his chequered history and, more recently, his seemingly uncertain opinions on Brexit and viewpoints seen as "too leftwing" for modern Britain. The loss of faith by his MPs is a clinical blow to any party leader, but for one who is severely lacking in support on the outside, it is a crushing time for Corbyn at a time when the country is on the brink of a historical change in the form of Brexit. Joan Ryan was particularly hostile towards Corbyn, feeling that she was no longer able to encourage people to vote Labour:
"I cannot remain a member of the Labour party while this requires me to suggest that I believe Jeremy Corbyn—a man who has presided over the culture of anti-Jewish racism and hatred of Israel that now afflicts my former party—is fit to be prime minister of this country. He is not."
Labour shot itself in the foot over their failure to band together behind a common goal over Brexit. Many within the party believed in remaining in the European Union, but Mr. Corbyn failed to project this idea. Having a series of MPs quit would have come as a surprise to most, yet the failures of the party that have been observed for many months now have finally contributed to MPs feeling they can no longer represent Labour.
The forming of this independent group is a blow for Labour. It will split the Labour votes in eight of the party's seats at a time when they would have been hoping to build on the surprisingly successful general election of 2017. To prevent this, Labour has urged their former representatives to trigger by-elections in their constituencies to run against Labour candidates. If the party fails to actively remove the lingering anti-semitic nuances, then more MPs will surely join the eight who have already left.
The timing of the decision of these MPs to split from the party will be viewed as unprofessional by many, yet there should be no inconvenient time to stamp out racism in any context. Labour is not going to get into power with Mr. Corbyn at the helm, and the defecting of a noticeable portion of the MPs goes to show that this feeling is mutual at the highest ranks of the party. The leftwing alternative that Labour has offered to the people for over a century won't necessarily be affected by the creation of this centrist independent group at present, but this could change should more disgruntled MPs come forward in the coming weeks.