Taylor Sheridan's State of the Union
An Oscar-nominated screenwriter explains a movie's parallels with today's ugly America, and offers thoughts on why a President Trump may have been not just possible, but inevitable.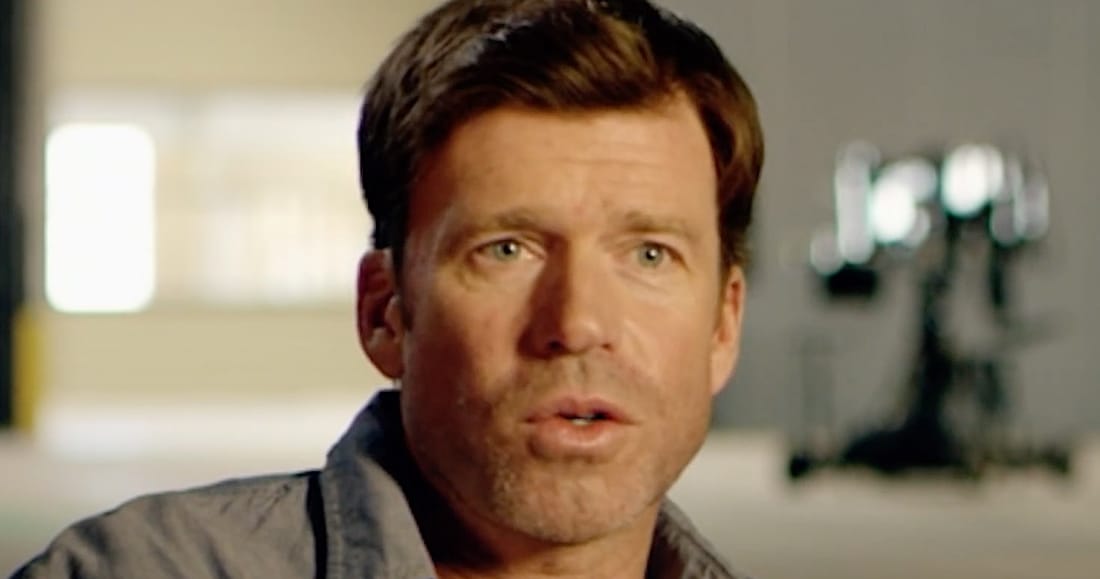 Hell or High Water, the Oscar-nominated film starring Jeff Bridges, Chris Pine and Ben Foster, has won high marks for its gritty, understated portrayal of two bank robbers pushing back against the bank that's foreclosing on their family land, and the laconic Texas Ranger bent on one pre-retirement objective: bringing them to justice. For Taylor Sheridan, the actor and screenwriter who wrote the script (nominated for Best Original Screenplay), the film has parallels with the fractious, volatile state of the country today. West Texas is a stand-in for America.
The wry, droll, self-deprecating Texas expatriate — whose first directorial feature, Wind River, stars Jeremy Renner, Elizabeth Olsen, Graham Greene and Jon Bernthal, and opens in September — spoke on Feb. 8th at a Los Angeles Hell screening and Q&A session.
In his 40-minute chat with the audience about how Hell made it to screen, Sheridan also spoke about the parallels between the David Mackenzie film of his script and the realities of modern America that made it a great story. He also explained his characters — fixtures in a forgotten, broken America — as archetypes for Americans who voted for Donald Trump in the November election.
◊ ◊ ◊
Sheridan saw what was coming years ago. "I wrote this in September 2011, it takes that long to get an independent film made," he said at the Q&A, sponsored by TheWrap, a major industry trade publication. "I had no idea the political events that would take place. At the time I wrote the screenplay, I had been back in Texas — where I'm from and the area where my family is from — and all these towns that were so vibrant when I was a kid were all abandoned, and there was a drought and these hideous fires spreading in west Texas and we didn't know how to deal with it ... It was sort of the last nail in the coffin for a way of life that I thought was a constant."
The actor, who starred as David Hale on the hit FX series Sons of Anarchy, got the chance to develop the script after plans to continue on Sons fell through at contract-renegotiation time. "They had one idea of what I was worth and I had another idea that was ... vastly different," he said. "I quit the show and decided to tell my own stories."
The road to Hell was a long one. Sheridan, who said "we hunted for three and a half years until we found the director we thought had the right vision," tapped into his own family for inspiration. "It was a number of things at once," he said. "My cousin – actually both of my cousins were federal marshals for 30 years. A member of my family has been a member of the marshals for 130 years. For generations, my family were the marshals in this region.
◊ ◊ ◊
"I was set to be the next generation, and then I moved to L.A. and played a cop on a TV show. I remember my cousin saw me and called me and said, 'so you're playing a police officer. Isn't that nice?' To be totally honest, I stole some beer from a Chevron in 1989 and I thought that probably disqualified me ... I was too ashamed to bring that up, so that's why I decided to become a fucking actor. What else can you do with that kind of scarred past?"
Sheridan, 46, defended the people of his Texas childhood from the media's recent, reflexive political identifications. "Having grown up there, I know these people, and they weren't what [HBO's Real Time host] Bill Maher was saying they were," said the Bosque County native. "I don't disagree with most of Bill Maher's political views, I don't want to call the guy out.
"But there has been a vilification of an entire region of this country that is not connected to what takes place in Los Angeles or New York or Seattle — and they felt attacked," he said. "You start talking about places with no voice – rural Texas or a North Dakota Indian reservation, these pockets with no social infrastructure, the social services aren't there, Planned Parenthood's three states away. All these things explain political leanings that have nothing to do with ideology, it has to do with, 'how can I control this bubble right around me that's imploding?'"
◊ ◊ ◊
For Sheridan, Trump's victory was a warning shot at those who'd regionally stigmatize people, those whom Sheridan thinks did just that in a way that aroused a broad, seething resentment that made Trump becoming president not so much possible as inevitable.
Sheridan said Trump "found his audience, as opposed to [being] created by that audience. He got up, he danced and he played and he understands marketing ... he saw the window that was open and he ran to it."
"I understood the rage," Sheridan said. "Joking about the flyover states ... we talk about diversity and all these things, but we lump people from an entire region together, attack them and assign beliefs to them in counties where the average income is 33 thousand dollars a year. And we're going to align them [with] the top 1 percent?
"The top 1 percent live in this city, right here, or they live in New York or they live in San Francisco or Miami," Sheridan said. "They do not live in west Texas, and they don't live in North Dakota and they don't live in south central L.A. and they don't live on the south side of Chicago.
"So we sit and attach all this stuff conveniently to people who have absolutely no connection to it. And it's unfair, and I think we have to ... respect the individual. We can't sit there and assign beliefs to people who don't have a voice to express them. We can't assume what someone thinks. I think those assumptions have created the situation we're in today."