Svengali Has Left the Building. Watch Out.
White House bomb-thrower Stephen Bannon, fired as chief strategist, may be that most dangerous Trump enemy: someone who knows his adversary from the inside out.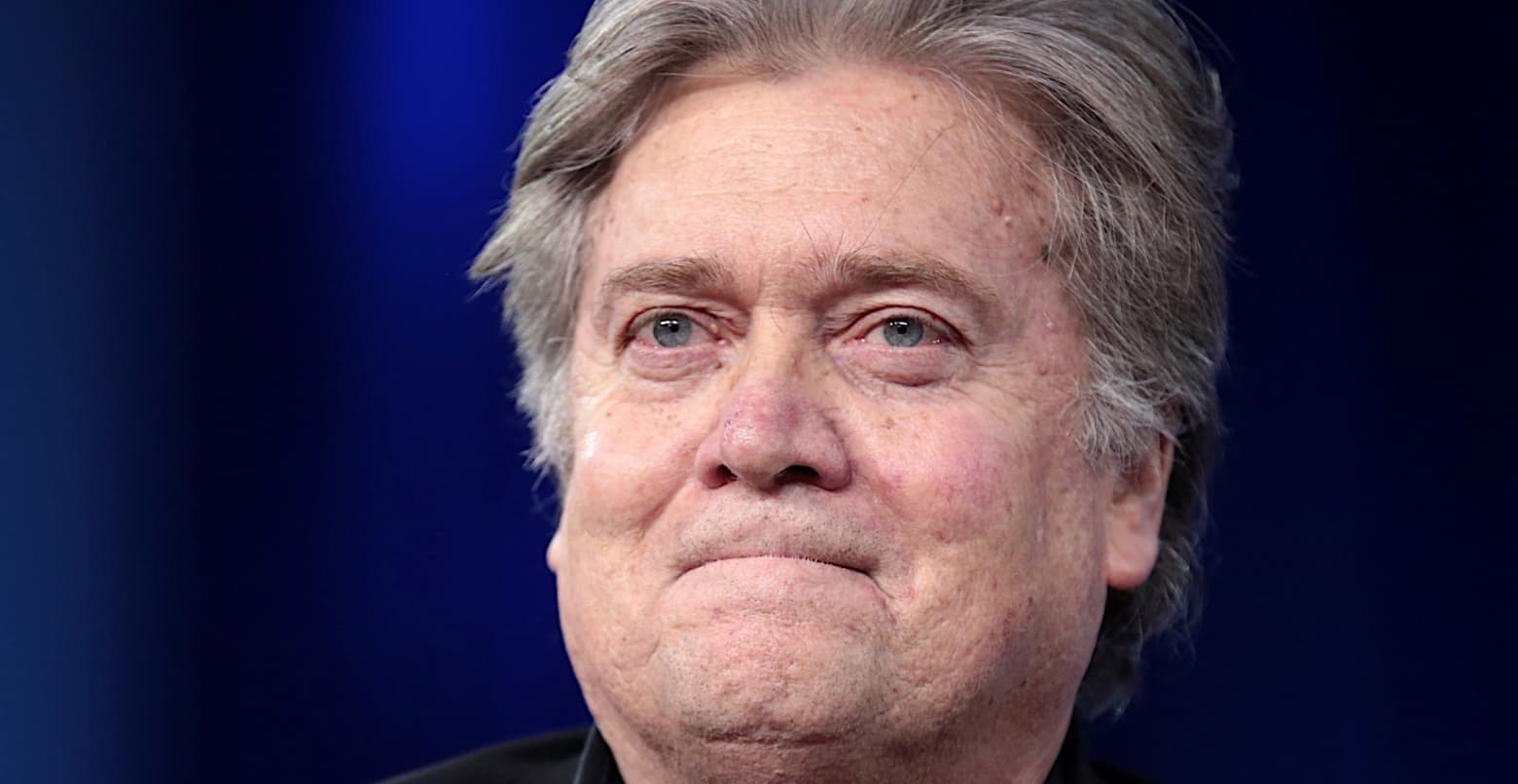 It was January 2017, just days after Donald Trump was inaugurated in the White House, and newly-minted White House chief strategist Stephen K. Bannon was talking to The Hollywood Reporter, plotting the national future, and feeling his oats.
"If we deliver," he said, "we'll get 60 percent of the white vote, and 40 percent of the black and Hispanic vote and we'll govern for 50 years … Like [Andrew] Jackson's populism, we're going to build an entirely new political movement. It's everything related to jobs. The conservatives are going to go crazy. … It will be as exciting as the 1930s, greater than the Reagan revolution — conservatives, plus populists, in an economic nationalist movement."
Say what you will about him, Steve Bannon never dreamed small. That dream of BannonWorld, as related to THR, was preceded by a bigger, wider vision he had during the 2016 campaign — one of a world that danced to his geopolitical tune.
◊ ◊ ◊

In an August 2016 tweet, Michael Calderone, a media reporter for The Huffington Post, quoted Bannon from a conversation that July, discussing his view of Trump campaign strategy:

"So, we look at themes globally as the center-right populist revolt against the permanent political class. Whether that's [conservative author and political consultant] Peter Schweizer hitting on crony capitalism, or our guys in London following Front National in France. It's all of one theme. We think that Nigel Farage will be a politician that rises one day, Donald Trump the next. But it's a bigger, tectonic plate.
"And that's why we kind of laugh at, particularly cable news and sometimes other sites that, they sit there and they're so wrong on everything. We just think, hey, they're not taking the time to look at these fundamental issues, whether it's what's driving Bernie Sanders on the left or what's driving this kind of populist, tea party revolt on the right."
◊ ◊ ◊
A dream is a wish the heart makes, and these were the dreams of a firebrand world-builder: cement a populist conservative agenda in the U.S. government; build an exportable campaign business model, duplicating Trump's populist American success in governments around Europe; redraw the geopolitical map of the continent along nativist lines.
The Bannon Doctrine fell apart on August 18, when he was relieved of his White House post. The man who would reinvent the world to absorb and embrace the challenges of economic populism in the 21st century couldn't reinvent himself to face the rigors of life in the White House whose battle lines may have been drawn against him for months.
Bannon's swift fall from grace was really just the latest in a series of undoings of his global vision. Last December, I observed that Calderone's tweet "was to lay the groundwork for Bannon's grand bid to exploit the divisions of the American election, to globalize its us-versus-them polarities, and to connect the election's outcome with a rising nativist-nationalist wave of new leaders in other countries. But just like the 'tectonic plate' of his nifty geological metaphor, 'themes' can be messy, disobedient things, notoriously unpredictable. The thorniest challenge to such cultural superimpositions is overlooking how dissimilar one culture is from another in the first place."
◊ ◊ ◊
Bannon quickly found out how true that was. His bid for new world disorder amid economic nationalism came-a-cropper late last year. On Dec. 4, far-right anti-immigration champion Norbert Hofer was trounced in the Austrian presidential election, stopped by Alexander Van der Bellen, former head of the Greens, and an ardent internationalist.
That same month, UK Liberal Democrats ousted Conservatives in a by-election that put the lie to Brexit isolationist mentality, and fired a smart shot across the bow of Prime Minister Theresa May.
And in May, Emmanuel Macron, the charismatic centrist candidate in the French presidential election, soundly defeated Marine Le Pen, the isolationist right-wing candidate of the National Front.
These serial rejections of nativist and anti-immigrant thinking, and France's full-throated approval of a centrist agenda, helped shatter the gathering sense of inevitability that nativists and economic populists worked to cultivate all year. They also started the countdown clock on Bannon's demise as White House Svengali. "Dead strategist walking," Frank Bruni wrote in The New York Times.
◊ ◊ ◊
A guessing game among the pundits has been debating how much of Bannon's grand objective will survive him in the White House. The answer, or certainly an answer, would seem to be: probably not much.
One of the more credible speculations about Bannon's hasty departure is that Trump, a flinty, notoriously mercurial boss eager for strokes and praise, was tired of Bannon getting credit for Trump's ideas (or what Trump wanted the public to believe were Trump's ideas).
If that's in any way true, you have to ask why the Trump White House would pursue Bannon's political vision, keep using Bannon's ideas after their architect had left the building. If there was no reason to keep Bannon around in the White House, there's no reason to feel obliged to let his ideas survive him there. Especially if there's scant evidence that those ideas are exportable beyond Trump's political base.
◊ ◊ ◊
Besides the president*, Bannon also ran afoul of Trump intimates such as First Consiglieri Ivanka Trump and White House counselor/Trump son-in-law Jared Kushner. But the major vote on Bannon's firing really came from John Kelly, the newly-minted White House chief of staff, first among administrative equals, and the closest thing to adult supervision there is in all of House Trump.
Following through on the instincts that prompted him to jettison WH communications director Anthony Scaramucci weeks before, and maybe even conditioning his willingness to stay as chief of staff on Bannon's removal, Kelly likely gave Bannon his walking papers.
To go by a New York Times chronology of events leading to Bannon's ouster, his departure was never a matter of if, it was always a matter of when. The day Kelly became White House chief of staff was almost certainly the day Bannon's White House exit began.
◊ ◊ ◊
The next big questions swirling around Bannon are How and When: How will Bannon exploit his status as arguably the most media-savvy of those people so prematurely historicized as "former Trump administration officials"?
Bannon has returned to his former executive chairman post at Breitbart News, the Pantone-red conservative political news website where Bannon worked before joining the Trump campaign last August.
There's been speculation that Bannon will make an attempt to supercharge the Breitbart brand in the realm of television news, maybe to offer a doubling-down-on-conservative-principles counterweight to Fox News. Is there anyone now in the conservative media ecosystem more ready than Bannon to step into the role (if not the shoes) of former Fox News CEO Roger Ailes?
◊ ◊ ◊
And according to a new Bannon profile in Vanity Fair, he's already put together at least a first draft of an enemies' list. Who's in? Kushner. Ivanka Trump. H.R. McMaster, the national security adviser. And more besides. The old saying may yet obtain: Keep friends close, keep enemies closer. And the White House and fundamental elements of the Republican Party are at loggerheads — maybe not full-on enemies, but very much in the position of a defensive, adversarial crouch.
The New York Times: "With Mr. Bannon no longer under any obligation to feign interest in working with [House Speaker Paul] Ryan and [Senate Majority Leader Mitch] McConnell — whom he privately denigrated to Mr. Trump as backstabbers who would inevitably sell him out — the likelihood of a deepening and potentially paralyzing rift between the Republican Party's hard-line conservatives and its leadership has only grown."
When he pulls this trigger is anyone's guess. Some say the process of going to war with the very people he worked with is already underway. Some people believe he'll soon have an amen corner of his very own. We can only wait for the flamboyant Bannon, dissolute in a dashing sort of way, to decide on his next political move.
◊ ◊ ◊
But politically speaking, Trump may want to hire a food taster. If Bannon was dangerous inside the Trump White House, he will be far more so outside the grounds. Mark Corallo, a Republican operative and former Trump legal spokesperson, told Politico: "Bannon is the intellectual heart and soul of the Trump movement. He was the think tank. He's the idea generator. … He was the guy who was the most thoughtful about how to enact the agenda, how to build a coalition."
He may need to walk a bit gingerly in the short term, careful not to destabilize the tectonic plates still moving under his own two feet. But Bannon — free of the institutional handcuffs of the White House and its bureaucratic limitations, back in the fold of the news organization he helped build and cultivate — is poised to be that most dangerous of enemies: one who knows his adversary intimately, from the inside out.
When he decides to act on that information, to leverage that knowledge against a White House in reliable chaos, almost doesn't matter.