The Swamp is powered by Vocal creators. You support
Christina St-Jean
by reading, sharing and tipping stories...
more
The Swamp is powered by Vocal.
Vocal is a platform that provides storytelling tools and engaged communities for writers, musicians, filmmakers, podcasters, and other creators to get discovered and fund their creativity.
How does Vocal work?
Creators share their stories on Vocal's communities. In return, creators earn money when they are tipped and when their stories are read.
How do I join Vocal?
Vocal welcomes creators of all shapes and sizes. Join for free and start creating.
To learn more about Vocal, visit our resources.
Show less
President Trump's Revised Travel Ban Gets Trumped
Just like its predecessor, the revised travel ban was deemed unconstitutional.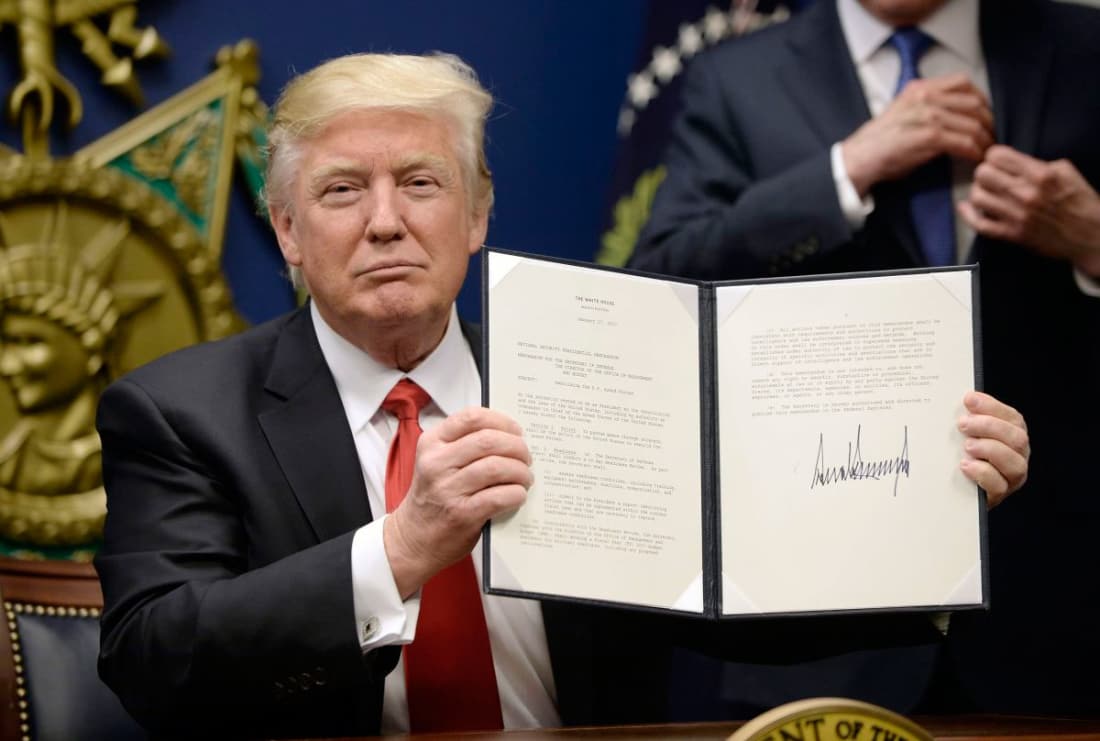 It's unlikely that President Trump is feeling the love from the Aloha state this morning.
A federal judge in Hawaii ruled last night, mere hours before the Trump administration's latest travel ban was due to take effect, that the revised ban was, like its earlier counterpart, unconstitutional. Suman Raghunathan, executive director of South Asian Americans Leading Together (SAALT), noted the victory for Muslim travelers and said that the federal court order that was now blocking the ban sent a clear message to the current administration.
"Despite the administration's legal gymnastics, the Muslim Ban 2.0 remains a stimulus package for hate that has already fanned the flames of fear, violence, and tragedy in our communities. We call upon the President to rescind this executive order in full and begin the work of healing our divided and wounded country," she said.

As with the previous travel ban, the travel ban proposed by the Trump administration would not allow people from six countries - Iran, Libya, Somalia, Sudan, Syria and Yemen - to enter into the United States for at least 90 days. Iraq was removed from the current iteration of the travel ban out of Pentagon concerns that the ban could impact its relationship with Iraq in the fight against the Islamic State.
The previous travel ban threw airports and other travel agencies into complete chaos as lawyers tried to unravel the legal ramifications of those who were coming into the country with valid visas - visas that had been issued well before the travel ban had been implemented. When lawyers won an order blocking that travel ban, President Trump accused judges at the time of being politically motivated in making their decisions and said that his administration would rework the travel ban into something more feasible. With the decision from the federal judge in Hawaii comes the realization that there is clearly more work that needs to be done regarding the ban.
Judge Derrick K. Watson of Federal District Court in Honolulu noted that in spite of the religiously neutral language, the revised travel ban would still be seen as racist and as an acknowledgement that one religion is not as favorable as others.
"The illogic of the government's contentions is palpable. The notion that one can demonstrate animus toward any group of people only by targeting all of them at once is fundamentally flawed," Judge Derrick Watson wrote in his 43-page court order.

According to The New York Times, nearly five dozen companies, including Airbnb, Dropbox, Lyft and TripAdvisor, joined the brief objecting to the order. As was the case when his initial travel ban was blocked by federal judges, President Trump accused Judge Watson of blocking the order for political reasons and said that the block against his travel ban "makes us look weak."
Judge Watson's ruling, however, is not a final ruling on the constitutionality of the ban, and there are plans by the Trump administration to mount a legal challenge in court. There are concerns, though, that this challenge would be protracted in nature, and could mean that President Trump and his aides would see their public comments and private communications scrutinized as a result.
Lawsuits against the order have asserted that the travel ban, whether in its current form or the previous one, could have serious implications on post-secondary institutions, hospitals, companies and other organizations that have ties and business with any one of the affected countries and how they function.
Marielena Hincapié, executive director of the National Immigration Law Center, said during a conference call that the current order blocking the travel ban in its current configuration was a relief to those affected, and added that it sent a clear message to President Trump.

"[It is] a strong and unequivocal rejection of the politics of hate," she said.