Has Feminism Been Trumped?
Has the wall around Mexico been traded for a wall around feminism?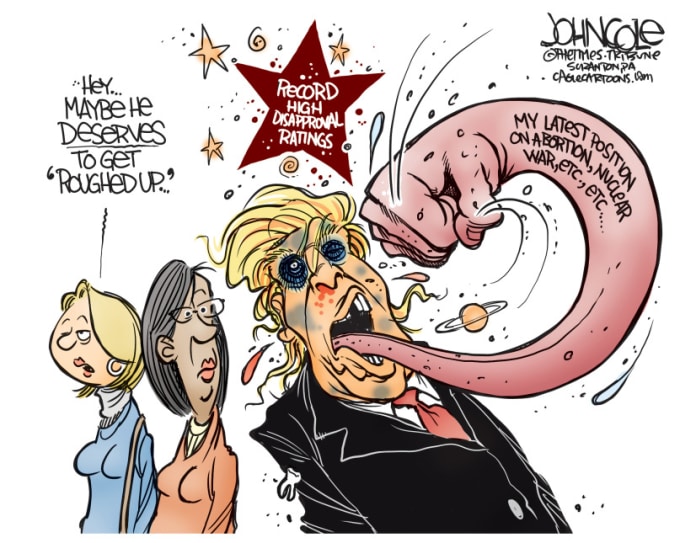 The presidential campaign of "The Donald" was littered with accusations of misogyny and sexual harassment. The internet seemed to violently recoil at his lewd quotes and questionable statements which were widely condemned by women's rights supporters — in places where women's rights are of interest. It is no surprise then that his inauguration was accompanied by worldwide protests. It's estimated that on the 20th of January, 5 million people rallied together to protect the legislation and policies regarding their human rights, particularly the rights of women and of her minority group. This huge demonstration reflects the widespread concern for the impact Trump's 3 years and a bit presidency will have, with many fearing a regression in women's rights – providing, of course, he doesn't get impeached.
The US government's stance and policies regarding women's rights are undeniably critical to their treatment across the globe. Trump's government appointments do little to alleviate worries. Two members of a largely white and male cabinet voted against reauthorizing the Violence Against Women Act, which aimed to help victims of domestic violence. This, among other pro-women's rights acts, has been rejected by members of the cabinet in the past, reflecting a lack of concern for women's issues and an unlikelihood that legislation will continue to further their protection. It not only seems likely that progressive bills wills be passed, but also that many schemes and organisations essential to women's rights will not receive the attention and funding they need and arguably deserve.
Some of Trump's policies not only fail to promote women's rights, but directly jeopardise them. The first three days of his presidency saw him sign an executive order that many argue will pose a dire threat to women's reproductive health and safety worldwide. Often referred to as the "Global Gag Rule," the order disallows international organisations that perform/provide information for women in third-world countries. Many projects, which will be cut off, provide a wide range of services, including information on contraception and sexual health; the effects will likely go beyond the inevitable increase of unsafe abortions.
History shows that previous bans such as this (reinforced in 2001 under Bush) have devastating effects. Contraceptive shipments from the US to 16 countries stopped entirely. Some even suggest that the disruption to the distribution of contraception could lead to an increase in abortions as the rate of unwanted pregnancies rise. Marie Stopes International — a charity which promotes women's reproductive rights — estimates the reduction in funding could, during Trump's first term, "lead to 6.5 million unintended pregnancies, 2.2 million abortions, 2.1 million unsafe abortions and the deaths of 21,700 pregnant women."
Trump's apparent focus on America's own interests, characterised by the now infamous slogan "Make America Great Again," could have a devastating impact on the most vulnerable women worldwide. Countries in conflict, or politically unstable, often rely heavily on foreign aid and support the US's change in foreign policy could cause a disruption to this. Certain organisations focus on tackling the issues which are specific to them: Women's groups in Syria provide anti-violence training and support for victims of abuse. Many organisations that help refugees would suffer from a reduction in support and funding. Whilst Trump has not made his policies clear on such cases, his chauvinist views make it seem unlikely his focus will be on providing foreign aid; many organisations and group may find themselves lacking a powerful ally. Trump's relationship with Russian President Putin (now being brushed under the carpet) puts into question how much support and protection he will offer to Ukraine, an already unstable region.
The "threat" that having Donald Trump as the president of one of the most powerful and influential nations on Earth put on women's rights is undeniable. Whilst many of his exact policies are yet to be confirmed, maybe they will never be confirmed. He has already made a decision that puts the sexual health, reproductive rights, and lives of vulnerable women at risk. The women's marches displayed the huge amount of solidarity between women worldwide. It seems increasingly likely that other governments will try to reverse the damaging effects of his policies. The Netherlands and Belgium have already openly opposed his policy on funding abortion abroad. The Dutch parliament has announced its intentions to make an effort to fund the programmes. If Trump refuses to further the interests of women, recent events have given us hope that others may be willing to do that for him.