Dear Mr. President
My Response to President Trump's Alleged Allegations that All Haitian Immigrants Have AIDS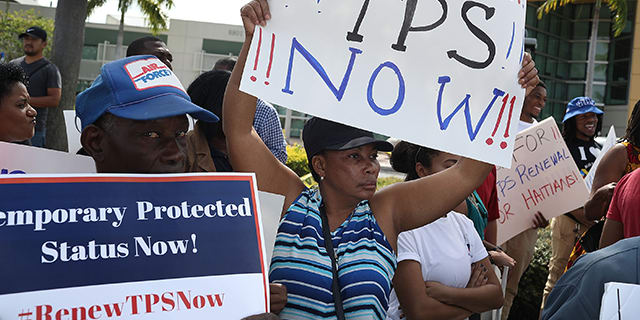 You don't know me, so let me introduce myself. My name is Kency and I am originally from Au cap, Haiti. I am proud to be the second generation of my family to obtain citizenship to become part of this great country. According to the US Census, in 2009, it was estimated that 830,000 Haitian Americans live in the U.S. When my parents first came to the United States, they believed this country held the key to a better life for them and their children. Like my parents, many Haitians who come here and continue to come are in pursuit of a better life, economic freedom, and freedom to strive for happiness. The same freedom you seem to be taking advantage of to spread your racism.
When my family came here in the 80s, it was around the same time the AIDS epidemic was rampant and many people died from the disease. Back then, scientists, doctors, and researchers knew very little about how the virus was spread or transmitted. At that time, the Center for Disease Control and Prevention (CDC) wrongfully assessed that Haitians were a "high-risk" group for HIV and AIDS. As a result, it was easy for people to make all kinds of discriminatory and horrible assumptions. It took a decade for researchers to admit they were wrong in their baseless assessment. In 1999, researchers discovered that the source of the virus that causes AIDS originated from a subspecies of chimpanzees native to west equatorial Africa. After hard-fought protests by the Haitian communities, the stigma was removed.
So, you see Mr. President, we have evolved since the eighties and the nineties. Since then, scientists and researchers alike have learned the exact way the AIDS virus is transmitted. Based on the recent report by The New York Times on your alleged racist rants about all Haitian immigrants having AIDS, it appears you have missed the memo. I will not embarrass you by giving you a history lesson on your own country or mine, for that matter. From your ignorant belief about a whole group of people, I gathered you would not retain any of it nor will it do any good.
Even though the White House has denied the report, I am inclined to believe these allegations are true. This belief is based on the fact that your administration has recently decided to expel 59,000 Haitians living in the United States under the temporary protected status (TPS). For me, it is a decision that has hit too close to home. Sadly, one of those 59,000 Haitians you are planning to expel happens to be my aunt.
One cold January day in 2010, while on a visit to the US, my aunt and my whole family watch on TV as our beloved Haiti disintegrated in the aftermath of a massive earthquake, which was estimated to have killed over 300,000 Haitians. Shortly after the earthquake, my aunt was granted protective status, which allowed her to stay in the US. My aunt, Mr. President, is one of the hardest working women I know. In her regular 9 to 5 minimum wage job, she genuinely cares for the elderlies with great passion and pride. My family may be disposable on your grand agenda to make "American great again," but their contributions to this country's economy and its development are just as important. Like my family, there are many other hard-working Haitians like: doctors, lawyers, musicians, and teachers who have contributed to making America a great country to live and raise children; including my children, nieces, and nephews who are now the third generation of Haitian Americans.
Sources:

Haitian Americans - Wikipedia https://en.m.wikipedia.org/wiki/Haitian_Americans
Where did HIV come from? | The AIDS Institute http://www.theaidsinstitute.org/node/259