The Swamp is powered by Vocal creators. You support
John Heckenlively
by reading, sharing and tipping stories...
more
The Swamp is powered by Vocal.
Vocal is a platform that provides storytelling tools and engaged communities for writers, musicians, filmmakers, podcasters, and other creators to get discovered and fund their creativity.
How does Vocal work?
Creators share their stories on Vocal's communities. In return, creators earn money when they are tipped and when their stories are read.
How do I join Vocal?
Vocal welcomes creators of all shapes and sizes. Join for free and start creating.
To learn more about Vocal, visit our resources.
Show less
Bryan Watch: May Week 4
Steil Sides Against Protecting Consumers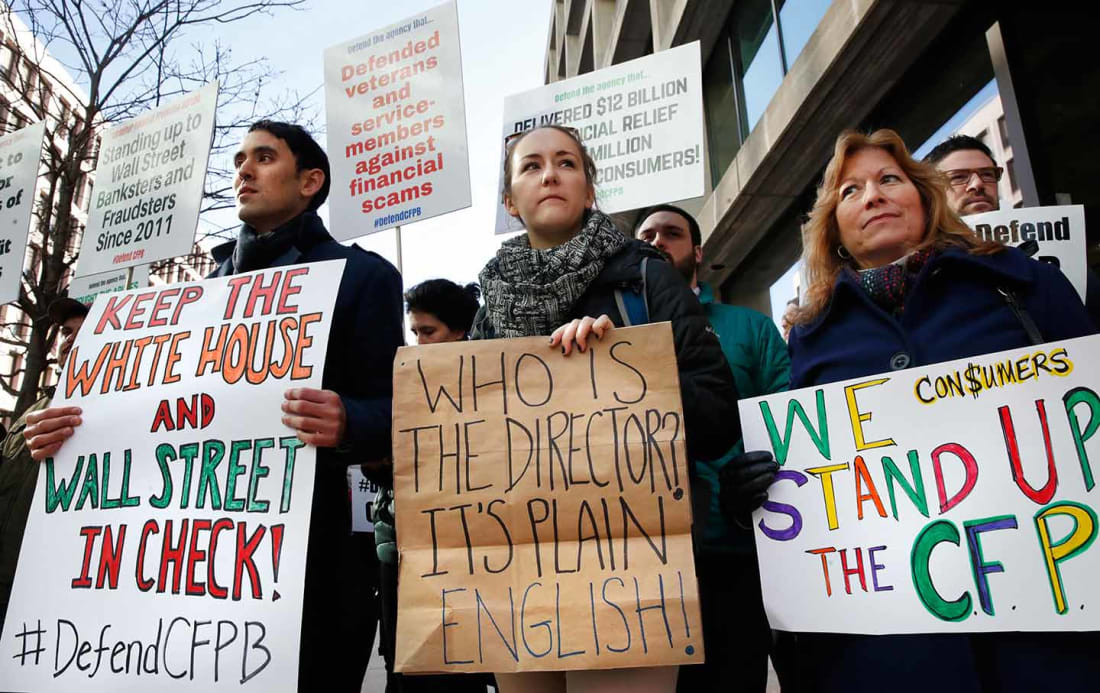 This was a big week for Rep. Bryan Steil (R-WI 1). He was the leader of the fight against the Consumers First Act, and the House voted on his very first amendment to a bill and on his first motion to recommit.
The big bill of the week was The Consumers First Act (HR 1500), which was sponsored by Maxine Waters (D-CA) in an attempt to protect the Consumer Financial Protection Bureau from actions by Donald Trump and Mick Mulvaney to destroy the agency. The CFPB, the brainchild of Elizabeth Warren, has helped consumers who were ripped off recover over $12 billion dollars. The bill passed 213 to 191, with every Republican voting against it.
How did Rep. Steil want to change HR 1500? He wanted to eliminate the language that condemns Mick Mulvaney for his failures at the CFPB, just another case of Steil being an apologist for the Trump administration. Steil's amendment failed 190 to 234, but still, he made an effort to whitewash the failures of the Trump administration.
Steil also had another big first this week, sponsoring the motion to recommit on the Consumers First Act. Steil actually wanted to make it harder for victims of financial fraud to be able to recover damages from the people who ripped them off. Steil's motion failed 191 to 231. (RC 227, May 22)
There were four other amendments to HR 1500. Republicans opposed Rep. Gene Green's move to reinstate the CFPB rules regarding forced arbitration. (RC 226, May 22). And Republicans supported Rep. Michael Burgess of Texas in his efforts to cut funding for the Consumer Financial Protection Bureau (RC 224) and to eliminate a database at the CFPB website containing consumer complaints (RC 223).
An amendment by Rep. Haley Stevens of Michigan regarding the makeup of the CFPB, so that it would have members from community banks, credit unions, and small business passed by 418 to 10. (Stevens Amendment, RC 225, May 22)
Republicans naturally voted against considering the Consumers First Act. Remarkably, they also voted against considering the SECURE Act (HR 1994), which almost every single one of them eventually voted for. (RC 220 and 221, May 21)
The other major bill the House passed this week was HR 1994, the "Setting Every Community Up for Retirement Enhancement Act" (SECURE Act). It passed by the lopsided margin of 417 to 3. The three against were the lead stooges of the crazy caucus: Justin Amash (MI), Thomas Massie (KY) and Chip Roy (TX). Do have to give a shout out to Rep, Amash for being the first Republican to state that Trump has committed impeachable offenses.
Republicans did support a poison pill Motion to Recommit by Rep, Patrick McHenry (R-NC) regarding the Boycott, Divestment and Sanctions directed towards the Israel government. The motion failed 200-222 (RC 230, May 23)
The House also took the bold stance of condemning female genital mutilation as a violation of human rights. Apparently suppressing the rights of women to control their own bodies is terrible if people in other countries do it. (H Res 106, RC 219, May 20)
And the House passed HR 1952, the Intercountry Adoption Information Act by 387 to Zero. The bill regards certain nations that have taken punitive actions regarding the ability of US citizens to adopt children.
Scorecard for the week: The House cast 14 votes, 10 party line and 4 non party line. On the party line votes, Steil was with the Republicans on 9 out of 10. His sole vote against the party line was on the vote to approve the journal May 23. (RC 229)